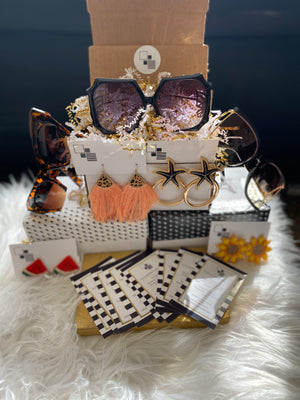 Collectors Exclusive Mystery Box 23'
#BackByCollectorsDemand: | Sunnies + Statements... | Oh, the mystery of a box full of goodies. Collectors this season, leave the accessorizing up to us with your Exclusive Mystery Box.
Third Year's A Charm... Collectors get into a refreshing summer combo that shall be curated especially for you with the seasons trendiest accents. From never before seen goodies which has never hit our site, to jewelry accents that are guaranteed to give you life. Choose your style preference and leave the rest up to us.

Let's Get Into The "Deets" of What's In Your "Mystery" Box?? ⠀⠀
Each 8 x 6 Collectors "Mystery Box" will contain:⠀⠀⠀⠀
•1 x Premium Pair of Sunnies/Eye Candy
•1 x Sunglasses Microfiber Cleaning/Carrying Case⠀⠀⠀⠀
•1 x Collectors Exclusive Pair of Earrings
$55 Value ONLY $35.
*Perfect for Gifting* 
No matter your style and grace, we'll create the perfect box for you and your daily  accessorizing!⠀